Biodegradable Plastic Market Size To Enhance Hike At 9.7% CAGR By 2030, Owing To Rising Awareness Among Public Regarding Ill Effects of Plastic Waste | Grand View Research, Inc.
According to a new report published by Grand View Research, the increasing use of biodegradable plastics in packaging and agriculture is anticipated to supplement the growth of the global biodegradable plastic industry.
Biodegradable Plastic Industry Overview
The global biodegradable plastic market size was estimated at USD 4.1 billion in 2021 and is projected to reach USD 10.0 billion by 2030, rising at a CAGR of 9.7% during the forecast period.
Governments prohibiting the use of single-use plastic coupled with rising awareness among the public regarding the ill effects of plastic waste are among the key trends stimulating market growth. Additionally, the increasing use of biodegradable plastics in packaging and agriculture is anticipated to supplement the growth of the segment. Non-decomposable plastics are a global issue. Governments around the world are tackling this problem by banning single-use plastics and promoting the use of biodegradable plastics. Moreover, consumers are willing to pay more for biodegradable plastics owing to their eco-friendly nature. The aforementioned factors, cumulatively, are providing a fillip to the market.
Gather more insights about the market drivers, restrains and growth of the Global Biodegradable Plastic Market
Despite environmental advantages, biodegradable plastics have some shortcomings too. Segregation of conventional plastics and biodegradable plastic is a big drawback as there is no distinct difference between them. The inclusion of conventional plastic in biodegradable plastic landfills can cause complications in the decomposition process.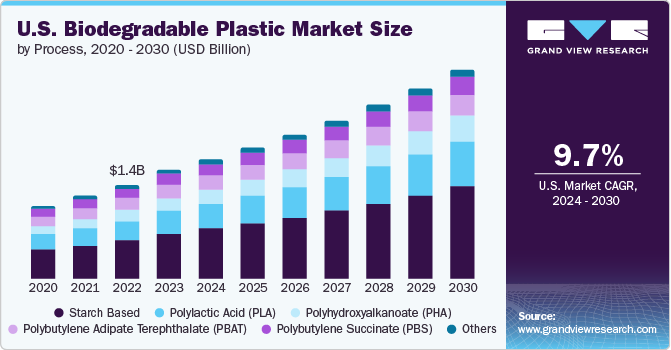 Moreover, not all biodegradable plastics readily decompose in the natural environment, as they require a specific environment in terms of moisture and temperature. Some biodegradable plastics release greenhouse gases during decomposition, which is counterproductive to the environmental cause. These factors are likely to act as stumbling stones in the upward climb of the market.
Biodegradable Plastic Market Segmentation
Based on the Product Insights the market is segmented into Starch Based, PLA, PBS, PBAT, PHA, Polycaprolactone,
PHA is projected to register significant growth during the forecast period. PHA is majorly used in medical applications such as drug encapsulation and medical implants. Other medical uses include tissue engineering, bone marrow scaffolds, and bone plates. Other than medical, PHA is also used in the production of compost bags; agriculture foil & films; and packaging for food & beverages and consumer products. These factors are expected to fuel the growth of PHA globally.
Starch-Based was the largest product segment for biodegradable plastics in 2021 with a revenue share of more than 40.0%. Based on product, the market is divided into starch-based, PLA, PBAT, PBS, PHA, and others.
Based on the Application Insights the market is segmented into Packaging, Agriculture, Consumer Goods, Other
The agriculture sector also held a significant share in the market. The use of biodegradable mulch film ensures conservation of water in the soil, suppression of weed growth, and conducive soil temperature maintenance to facilitate faster crop development. The surging use of biodegradable plastics in consumer goods is also evident in developed economies.
Packaging was the largest application segment for biodegradable plastics in 2021 with a revenue share of more than 60.0%. Packaging is one of the leading application sectors for biodegradable plastics. It is used in both rigid and flexible packaging. Replacement of conventional plastics by these plastics in food packaging such as boxes, wraps, cups, and plates is gaining momentum, which is supporting the growth of the biodegradable plastic market.
Based on the Regional Insights the market is segmented into North America, Europe, Asia Pacific, Central & South America, Middle East & Africa
Europe was the largest regional market for biodegradable plastics in 2021 with a revenue share of more than 43.0%. High awareness among people toward plastic waste coupled with European Union ban on single-use plastics is estimated to propel the regional market during r the forecast period.
The Central & South America region also emerged as a promising destination in the market. The availability of cheap raw materials is likely to augur well for the market in the region. The region is projected to register a CAGR of 9.6% during the forecast period.
The U.S. market is expected to rise significantly during the forecast period on account of the growing demand for bio-based packaging in the food and consumer goods sectors. Bio bags and bio-based plastics have higher tensile strength, are eco-friendly, and are convenient for use as compared to conventional plastics. As a result, the demand for biodegradable plastics is further projected to propel during the forecast period.
Market Share Insights
May 2022: Danimer Scientific, Inc. (NYSE: DNMR) and Kemira announced today a multi-year license and supply agreement, exclusive in Kemira's core markets, to commercialize biobased barrier coatings for paper and board products.
April 2022: Cargill to expand nutrient research and development capabilities of its Global Animal Nutrition Innovation Center to serve agriculture and food industry customers.
Key Companies Profile:

Key market players are pouring hefty funds into research & development to introduce novel biodegradable plastic products, which are strong and readily degradable in the natural environment.
Some prominent players in the global biodegradable plastic market include:
Cargill Incorporated
PTT MCC Biochem Co., Ltd.
Biome Technologies plc
Plantic Technologies Limited
BASF SE
Total Corbion PLA
Synbra Technology BV
Futerro
Novamont SpA
NatureWorks LLC
Eastman Chemical Company
Trineso
Danimer Scientific
FKuR Kunststoff GmbH
Order a free sample PDF of the Biodegradable Plastic Market Intelligence Study, published by Grand View Research.
About Grand View Research
Grand View Research is a full-time market research and consulting company registered in San Francisco, California. The company fully offers market reports, both customized and syndicates, based on intense data analysis. It also offers consulting services to business communities and academic institutions and helps them understand the global and business scenario to a significant extent. The company operates across multitude of domains such as Chemicals, Materials, Food and Beverages, Consumer Goods, Healthcare, and Information Technology to offer consulting services.
Web https://www.grandviewresearch.com/
Media Contact
Company Name: Grand View Research, Inc.
Contact Person: Sherry James, Corporate Sales Specialist – U.S.A.
Email: Send Email
Phone: 1888202951
Address:Grand View Research, Inc. 201 Spear Street 1100 San Francisco, CA 94105, United States
City: San Francisco
State: California
Country: United States
Website: https://www.grandviewresearch.com/industry-analysis/biodegradable-plastics-market