New 2023 Psychological Novel, "Take Me To Nirvana" by J Y Barris, Gives Hope to Child Abuse Survivors
"Take Me To Nirvana" delves deep into the mind of a child abuse survivor and raises awareness of parent-initiated abuse.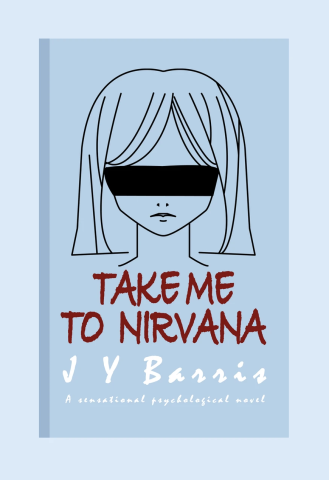 The new psychological novel "Take Me To Nirvana" by independent author J Y Barris tells the story of Amber, a young woman struggling to reconcile an abusive childhood past with her new beginning in life. The story centers on the efforts to find her by a new friend — her employer Tom — and delves into the troubled, strange, and sometimes gruesome challenges Amber faces in finding closure. Ultimately, this is a raw yet tender tale of hope and courage.
A Psychological Novel Raising Awareness of Childhood Abuse :
With over 7 million children subjected to child abuse in the USA every year and over 90 percent of cases involving at least one parent, "Take Me To Nirvana" throws light on the high prevalence of parent-initiated abuse in the nation and helps victims find a route forward to healing and happiness.
Critics have praised the book, with one review stating, "A beautifully written psychological novel that takes you through the mind of a young, brave, child abuse survivor. You will feel for the characters and the millions who are suffering today." Another review praises the book's exciting, well-constructed plot, saying, "This is a meaningful read with lots of thrills to keep you on your toes."
Offering Hope through Psychological Fiction :
"Child abuse was present in my family growing up, and it has always been something I have felt strongly about ending," said independent author J Y Barris.
"My mission with 'Take Me To Nirvana' was to write something that gives hope to people affected by childhood trauma and to raise awareness of parental abuse."
"This is a celebration of everybody on this earth who is trying their best every day despite overwhelming odds. I hope this book will give people the courage to find their own peace and move beyond their past."
While "Take Me To Nirvana" uses the themes of childhood abuse and trauma, it is not only a book for survivors. It is a raw, powerful story with a refreshing plot and a few surprising twists that will appeal to anyone interested in psychological thrillers or heartfelt journeys of self-enlightenment.
Don't miss out on this powerful and thought-provoking novel — "Take Me To Nirvana" by J Y Barris. Order your copy on Amazon for an emotional journey that will stay with you long after you've turned the last page.
About J Y Barris:
J Y Barris is an independent author, artist, entrepreneur, and graphic designer with a unique vision and a mission to better the world one idea at a time. Her writing style is unique, and she keeps readers on the edge of their seats with her perfect blend of humor, soul, and thrill.
About the Book:
J Y Barris' "Take Me To Nirvana" is a psychological novel that explores the struggles of a child abuse survivor and sheds light on the prevalent issue of parent-initiated abuse. Expect an emotional and thrilling journey as the book delves into the mind of its main character.
Media Contact
Contact Person: Julie Barris
Email: Send Email
City: Prior Lake
State: Minnesota
Country: United States
Website: jybarris.com