Anthony McDaniels: Debut Album & Single 'I've Got Jesus' Set to Inspire
Singer-songwriter Anthony McDaniels debuts his unique blend of gospel, R&B, and hip-hop influences in his album and single "I've Got Jesus" set to release in the Fall of 2023.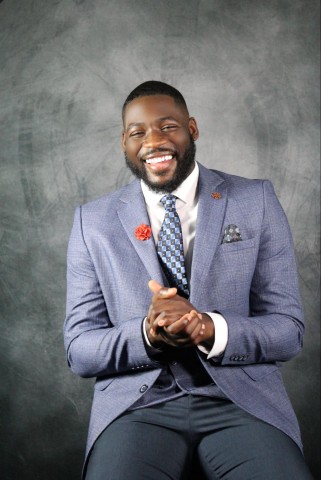 Long Island-based singer, songwriter, and worship leader Anthony McDaniels is set to launch his highly anticipated self-titled debut album and single "I've Got Jesus" in Fall of 2023. McDaniels has been honing his musical talent since he was a young boy, singing in his family church choir at The Church of God and Pillar of Zion when he was just two years old. His passion for music and dance quickly gained recognition, and he became well-known for his talent and community work.
Anthony McDaniels music career has taken him on a journey filled with exciting experiences and valuable connections. His travels led him to meet various professional gospel artists, such as Pastor Tim Rogers & The Fellas, Spencer Taylor Jr. of Highway QCs, Doc McKenzie & Hi Lites, and George Dean & Gospel 4. The influence of these artists allowed McDaniels to refine his craft and create impactful music that connects with his audience. His unique blend of gospel, R&B, and hip-hop has earned him a dedicated following on social media, where he has over 100,000 followers and millions of impressions across various platforms.
In addition to his musical talent, McDaniels is committed to giving back to the community. In 2006, he founded The Projectt Live, an after-school youth program. He also remains active in youth outreach, praise and worship, and hosting gospel concerts and programs. In 2019, he founded Higher Praise Gospel Explosion, and he sings lead with The New Gospel Love Caravans from Wyandanch, New York. He is connected to many churches across Long Island and in states like Florida, North Carolina, South Carolina, Connecticut, and New Jersey.
McDaniels' upcoming album will showcase his vocal ability, musical talent, and dedication to his faith. The album features a range of musical styles and genres and promises to be a powerful listening experience for his fans. McDaniels vocal ability gained recognition from several gospel artists, including The Legendary Supreme Angels, The Walls Group, and Anointed Brown Sisters. He was even nominated in Mississippi for the 12th Annual Golden Triangle Music Award as The 2023 Male Vocalist of the Year.
Speaking about his upcoming album and single, McDaniels said, "I am thrilled to share my music with the world. My faith is at the center of everything I do, and my music is all about spreading love, hope, and positivity."
Anthony McDaniels is a rising star in the gospel music industry, and his debut album is highly anticipated by fans and critics alike. His music is a powerful testament to his faith, and he is committed to making a positive impact on the world through his music and community work.
About Anthony McDaniels
Anthony McDaniels is a Long Island-based singer, songwriter, and worship leader known for his gospel, R&B, and hip-hop influences. He began singing in his family church choir at just two years old and has gained recognition for his vocal ability, dance talent, and community work, including founding an after-school youth program called The Projectt Live in 2006. McDaniels creates meaningful music that inspires and uplifts listeners and has a social media presence with over 100,000 followers. He is also active in outreach with daily devotionals and works as a graphic designer and photographer.
Follow Anthony on all social media platforms for latest news and updates.
Official Website: www.anthonymcdanielsofficial.com
Instagram: www.instagram.com/anthonymcdanielsofficial
Facebook: www.facebook.com/anthonymcdanielsofficial
Media Contact
Company Name: Guszefreshent
Contact Person: Ms.Lynn
Email: Send Email
City: Long Island
State: New York
Country: United States
Website: www.anthonymcdanielsofficial.com