MetaDragon Debuts on Nasdaq's Big Screen and Launches "100 Days Plan for Southeast Asia"
MetaDragon, a playground brand initiated by BGG Guild, recently announced a new round of multi-million dollar investment from MetaV Capital, BlockD Foundation, and other institutions, as well as some individuals, and officially launched the 'Southeast Asia 100 Days Project' while debuting on the big screens of Times Square and Nasdaq in New York City.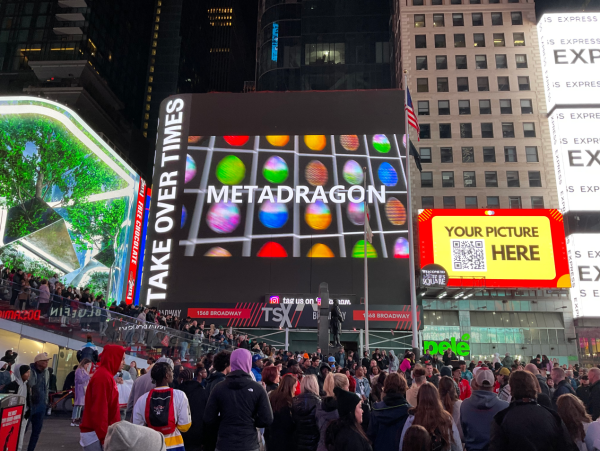 MetaDragon's card collecting campaign has gained more than 15,000 players in the first month.
MetaDragon is a P2E (Play to Earn) game where players can answer questions, collect cards, hatch MEggs, auction, and compete in MWars together.
MetaDragon ecological construction is divided into four major phases: card collection and attraction phase, MEgg hatching phase, card game phase, and social phase.
The card collection and attraction period was launched in March 2023, and players will collect cards by answering questions every day for fun and education, and distribute 30 million MDS assets. In less than a month, the MetaDragon community already has more than 15,000 certified players and is growing rapidly.
The P2E stream will see a "major re-invention" in 2023
At the beginning of the development of the P2E stream in 2021, some Web3 game projects sat in the limelight, which neither had a clear roadmap to launch their products nor had reliable experience to achieve the roadmap goals, and still received a lot of financial support. However, that period of relying on concept hype is gone.
MetaV Capital says that as investors, we look at projects based on the level and experience of the team building Web3 games and the potential for future ecological development, rather than short-term hype.
As the expectations of players and investors rise, the P2E scene will see a "major reshaping" and P2E projects like MetaDragon, which can create highly playable games, will stand out and win in the long run.
MetaDragon leads the new generation of play-earning paradigm
The new global P2E economy is booming, and GameFi continues to attract players by seamlessly blending entertainment with economic incentives. Instead of extracting maximum value from players, GameFi is integrated into a free and open market, offering players the opportunity to make money for themselves, and some games have even spawned a full service chain.
In the past few months despite the bear market, MetaDragon and many other Web3 high quality game projects, managed to get funding.
Based on the support from MetaV Capital, BlockD Foundation, and other institutions, MetaDragon's current round of financing will be used to launch the '100 Days Plan for Southeast Asia' to accelerate the construction of the ecology and further expand the communities in Indonesia, Malaysia, Philippines, and Vietnam.
In the future, with the entry of more high-quality gaming organizations worldwide, Web3 games will start to enter the mainstream era, and MetaDragon will definitely lead the way in the next generation of P2E ecological paradigm by deeply integrating the openness and transparency of blockchain with the social entertainment of games, and making substantial investments in high playability, technical innovation, and decentralization – the new generation of P2E ecological paradigm.
Media Contact
Company Name: PT. BLOCK DIGITAL TECHNOLOGY
Contact Person: Lydia
Email: Send Email
Country: United States
Website: https://metadragon.ai/