The 7 Principles of the Affluent Soul by David Bryan
Teaches Anyone How to Benefit from Inner Riches
The new book The 7 Principles of the Affluent Soul by David Bryan is a comprehensive exploration of inner consciousness, science and philosophy which enables readers to attain the inner riches that are impossible to buy with money alone.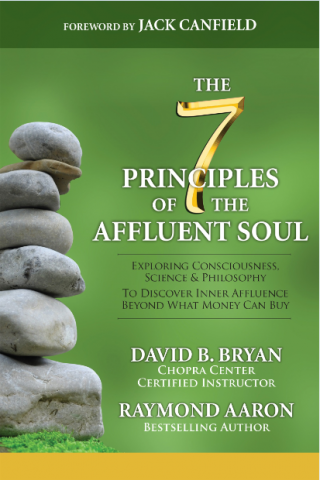 David is an author, success coach, and Chopra Centre Certified Instructor. He coaches and speaks about enhancing the quality of life by expanding experiences of inner affluence. He has more than 25 years of meditation and meditation retreat experience. David has spent his entire life exploring new opportunities and adventures. He says: "My purpose in writing this book is to share with you some of the thoughts that have occurred to me over the decades I have spent exploring and experimenting with questions on how to find more satisfaction and fulfillment in life. If anything that I mention in this book turns out to be helpful to you in any way, then its purpose will have been served".
The book summarizes the most helpful points David has found on his journey of expanding his connection with his soul. It reveals the surprising benefits that combining the discoveries of modern science with the ancient philosophies of the human soul can bring to the quest for deeper fulfillment and life satisfaction.
Jack Canfield, co-creator of the Chicken Soup for the Soul book series, says in his Foreword to David's book: "I invite you to join David on the path to inner affluence in your own life by opening your mind and heart to The 7 Principles of the Affluent Soul. It will enrich your life and speak to your soul".
David lives with his wife in Toronto. Just one example of his gusto for life is his achievement of Rookie of the Year in his local cricket club's Associates Cricket League. He did not start playing cricket until reaching the ripe age of 50!
He is an arts graduate of the University of Toronto and spent 27 years working as a Registered Trademark Agent and partner of a large Bay Street law firm.
Although there have been several personal crises within David's life he has dealt with them by exploring his own consciousness. These experiences in meditation and his own studies in both philosophy and science have formed the basis of his book The 7 Principles of The Affluent Soul.
David can be contacted via email at [email protected] or by phone in Toronto, Canada at 6476373014.
His LinkedIn profile is: https://ca.linkedin.com/in/david-b-bryan-642906122 and his website for this book is theaffluentsoulbook.com
Media Contact
Contact Person: David Bryan
Email: Send Email
Phone: 6476373014
Country: Canada
Website: theaffluentsoulbook.com