Garrett Fritz talks about his exciting new dating app that has users create and respond to 'Challenges' in order to match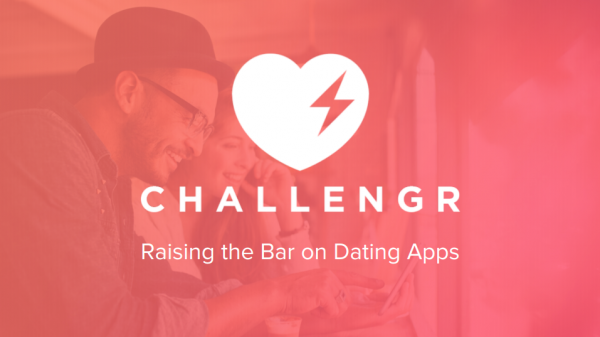 Challengr is an upcoming and exciting new dating app that will add a lot more fun and efficiency to the online dating experience. The app, created by Garrett Fritz (an MIT Aerospace Engineer) has users create and respond to Challenges within the app. They can pick a Challenge they like and respond using a photo or video (and sometimes just text). If the person who created the Challenge likes what you sent, you can start talking to each other and instantly have an interesting thing to talk about too. It's a great ice breaker that sets the ball rolling to find a potential mate online. You can't message directly unless you do this Challenge – Response handshake, so kiss good bye to an inbox cluttered with uninspired pick-up lines, 'hey… I like your profile' messages and dead-end conversations.
In this exclusive interview, Garret Fritz, the CEO and founder of Challengr talks more about the app and how it is going to impact the online dating scene today.
Interviewer: Give us a brief about your background and career.
Garrett Fritz: Sure, I graduated as an Aerospace Engineer from the Massachusetts Institute of Technology. After college I went to Denver and built helicopter simulators for the Marine Corp, Coast Guard, and even the Royal Netherlands Airforce. I absolutely loved that job but loved my wife more and she much preferred to live in Los Angeles. So, I took the first job I found in LA, which was a small startup that built social networks for big brands (like MLB, Slipknot, LA Kings and Liverpool FC). From that moment on I was a mobile app specialist and I have now decided to use what I learned to build something that I believe can truly be big.
Interviewer: What inspired you to create Challengr?
Garret Fritz: Let's start by being upfront here. I am blissfully married and have been with my wife for the better part of 10 years. So no, this is not some passion piece that is geared to solve the problems I have faced with finding a mate. With that said, I am a millennial who has been surrounded with singles who have become subject matter experts when it comes to the online dating scene. These friends, family and colleagues have very audibly spoken their mind on how frustrating the experience has been and what they like and dislike about the different options out there.
With that context in mind, the last startup I worked at toyed with this Challenge-Response interaction pattern. The app was called Maverick and the goal essentially was to provide a scaled mentorship platform for young girls and women. The mission, implementation, and target demographic were radically different, but I learned that the overall idea of the 'Challenge' was exciting to the users. Where that app fell short was that it didn't provide a continued motivation for users to keep creating and responding to Challenges. When it comes to Challengr, the motivation to keep going is obvious…you get to go on a date!
Interviewer: How does it work?
Garret Fritz: Very simple. When you sign up you are immediately presented with a list of Challenges that other users who match your preferences have created. When I say 'Challenge' you should think of 'questions', 'dares', or sometimes just random thoughts. Some examples are as simple as 'what was the last podcast you listened to' and can be intense like 'show me a video of you doing 20 pull-ups'. You can even search the Challenges for topics you find particularly interesting.
If you're not quite ready to put yourself out there, you can just create your own Challenge and let them come to you! The more interesting you make your Challenge and the more it gives a blueprint of how to connect with you, the more responses you will get. This is a very passive and relaxing way to use Challengr. Once you get responses you can either 'love' or 'dismiss' them. If you 'love' it, you are a match and direct messaging is enabled between you two. If you dismiss, it just disappears, don't worry, we don't actually notify them that you did that, so no hard feelings!
As a side note, the Challenges show up in the app as cards with text on them. This means that the Challenge is front and center, NOT your picture, which means Challengr is a personality first, appearance second platform. When you tap on the card it cycles through pictures so you do get to see what they look like quite easily, but that isn't what will initially draw you to them.
Interviewer: How will it impact the online dating scenario in today's world?
Garret Fritz: It's a game changer. Yes, the first thing anyone says when I tell them I built a dating app is 'Eek, another dating app'. But realistically, dating apps just aren't different enough. There are two categories of dating app, you have your insta-match apps like Tinder, Bumble and Grindr. Theses apps result in oceans of matches you have to sift through, bots, spammers and rarely, if ever, result in a date. On the other side you have the more involved 'let our "algorithm" match you' where you have to fill out tedious questionnaires and worse: talk about yourself. This is where Match.com, eHarmony and even Hinge lie.
Challengr sits right in the middle, where no one else is. It lets you decide who your matches are while just slightly raising the activation energy needed to connect to filter out all the doomed connections that were never going to go anywhere. Not to mention this pattern (along with being mobile only) makes it much more difficult for bots and spammers to take up residence.
Interviewer: When is it launching? And what platforms it will be available on?
Garret Fritz: Right now! The app is available for iOS and Android, and I wrote every single line of code myself! So, if you find any bugs, you know exactly who to complain to (I 'Challenge' you to find a single one! – you won't be able to). You can install straight from the Apple App Store or Google Play Store, you can also go to the website and click the links there www.challengr.app.
Interviewer: Will it be completely free or with a subscription plan? If yes, what are the extra features the premium members can get?
Garret Fritz: It is absolutely a free app. To keep me off of food stamps, I added a small banner ad at the bottom for those who want to use it for free. You can also sign up for the 'premium' service which enhances your ability to match with others and remove the banner ad. Some premium features include allowing you to make an unlimited number of Challenges, respond to as many Challenges per day as you want and even boost your challenges to the top of the list so they can be more easily discovered. One other fun premium feature is allowing you to pick what city you want to find Challenges in, instead of forcing the device GPS coordinates.
Interviewer: How do you solve the chicken-egg problem with these kinds of apps when it comes to users?
Garret Fritz: Well that is another benefit of the Challenge-Response pattern. Once you sign up and create some Challenges, your Challenges are always out there working for you. So, you could just sit back and relax and as the platform grows in users you will just get notified of new responses. I will say that there is an algorithm that decays completely inactive users, so I do suggest opening the app at least once a week to help keep your Challenges at the top of the list (and to see the new Challenges that have been created). We also just got some significant funding and are starting the marketing engine which should start pouring users into the app.
Interviewer: What's your vision for the Challengr app?
Garret Fritz: The immediate goal for Challengr is to be the app with the highest 'match to date' ratio on the planet. I firmly believe that the interaction pattern will make that goal very easy to reach.
Beyond that, I do want Challengr to be more than a dating app and for the world to see the power of this Challenge-Response interaction pattern. Already when you sign up for Challengr you indicate if you are looking to use the app as a dating app or just on it to find some new friends (you can find that 4th player for board game night or complete your kickball team). I truly believe that this app can evolve to be the go-to way for people who are no longer in the target rich environment of college to find new friends and really start enjoying being social.
Media Contact
Company Name: Challengr, Inc.
Contact Person: Garrett Fritz
Email: Send Email
Country: United States
Website: www.challengr.app